Commission Workshop
09/26/2017 - 05:00 PM
Location:
Address: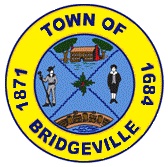 AGENDA
COMMISSION WORKSHOP
September 26, 2017 – 5:00 P.M.
TOWN HALL
---
I. Call to Order
II. Quorum Present
III. Open Discussion (No action will be taken)
A. Parking Regulations
B. Police Department- New Vehicle Purchase
IV. Good of the Order
V. Adjournment
Posted: September 18, 2017
THIS AGENDA AS LISTED MAY NOT BE CONSIDERED IN SEQUENCE. THIS AGENDA IS SUBJECT TO CHANGE TO INCLUDE ANY ADDITIONAL ITEMS, EXECUTIVE SESSION OR DELETIONS WHICH MAY ARISE AT THE TIME OF THE MEETING.