Commission Meeting
09/11/2017 - 07:00 PM
Location:
Address: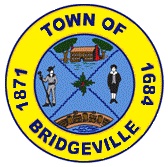 AGENDA
COMMISSIONERS OF BRIDGEVILLE
SEPTEMBER 11, 2017 – 7:00 P.M.
BRIDGEVILLE TOWN HALL
---
I. Call to Order
II. Quorum Present
III. Approval of Agenda
IV. Approval of Minutes
V. Correspondence
VI. Approval of Financial Statements and Bills Payable
VII. Town Reports
VIII. Economic Development Update
IX. Citizen's Privilege
X. Old Business
A.
XI. New Business
A. FCC Notification for Spectrum Manager Lease & Spectrum Lease Agreement (Water Meter
Reading Equipment Upgrade)
B. 410-412 Market Street Structure Demolition Bid Award
XII. Introduction of Ordinances
XIII. Good of the Order
XIV. Adjournment
Posted: September 1, 2017
THIS AGENDA AS LISTED MAY NOT BE CONSIDERED IN SEQUENCE. THIS AGENDA IS SUBJECT TO
CHANGE TO INCLUDE ANY ADDITIONAL ITEMS, EXECUTIVE SESSION OR DELETIONS WHICH MAY ARISE AT THE TIME OF THE MEETING.
Draft Workshop Minutes from 8/31/17