Planning and Zoning Meeting
09/19/2017 - 07:00 PM
Location:
Address: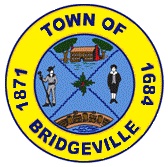 BRIDGEVILLE PLANNING & ZONING COMMISSION
PUBLIC HEARING
SEPTEMBER 19, 2017 – 7:00 PM
TOWN HALL
I. Call to Order
II. Quorum Present
III. New Business
A. Development Plan Review- proposed Retail Sales Establishment located at 603 S. Main Street, Bridgeville, DE 19933
IV. Adjournment
Posted 9/12/17
THIS AGENDA AS LISTED MAY NOT BE CONSIDERED IN SEQUENCE.  THIS AGENDA IS SUBJECT TO CHANGE TO INCLUDE ANY ADDITIONAL ITEMS, EXECUTIVE SESSION OR DELETIONS WHICH MAY ARISE AT THE TIME OF THE MEETING.
Agenda